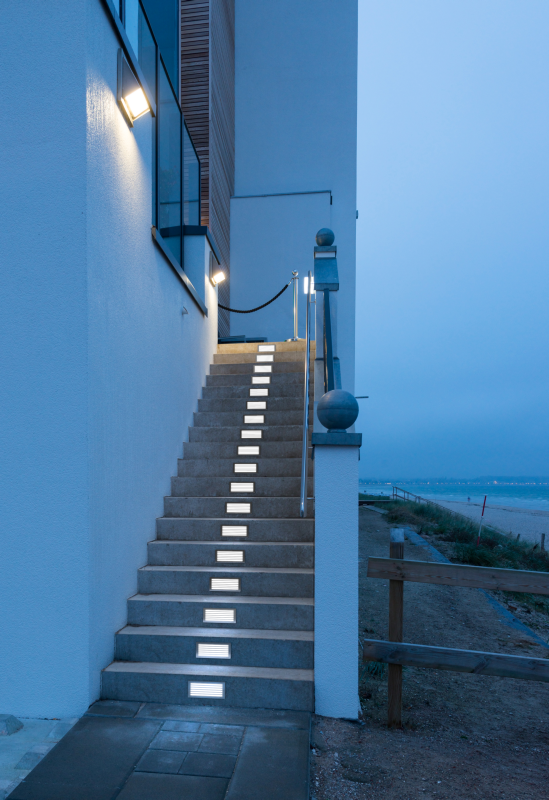 © Linus Lintner Fotografie, Berlin
BRICK STEPS
Trailblazer
By definition, this title describes a type of pioneer, showing others the way. BRICK STEPS takes it at its word: by directing low-glare light precisely in those places where we might literally or in terms of planning take the wrong track. It takes on this responsible task subtly, reliably and efficiently - which can also be described as trailblazing work even in the wider sense of the word.
BRICK STEPS recessed wall and step luminaires, featuring state-of-the-art technology, project light as required on to steps, entrances, ramps or paths and purposefully keep a low profile with regard to design and light output. In addition to increased energy efficiency, future-proof LED lamps offer a choice between a warm or neutral white light colour. The housing made from die-cast aluminium (Alu Druckguss in German), along with the high protection class and the shock-proof plastic cover, ensure robustness, security and durability even in harsh environments. The low mounting height of 5 millimetres allows the luminaires to be mounted practically flush with concrete, brickwork or cavity walls; cover frames or lamellar covers are also available in various models. Overall, BRICK STEPS offers plenty of visual flexibility and lights the way to success even for architecturally demanding plans.
Highlights of BRICK STEPS
Architecture
Versatile: Recessed wall/stairway luminaires.
Long service life: Cover frame or louvre cover choice of stainless steel or powder-coated die-cast aluminium.
Robust: Cover made of shock-resistant plastic (polycarbonate), opal.
Standard: Seawater resistant coating.
Lighting planning
Advantageous: Selection of various luminous flux levels to prevent any glare. Choice of light colours.
Applicable: For lighting stairs, corridors and paths, as well as for marking danger points and traffic areas with low ambient brightness.
Installation
Straightforward: Housing of die-cast aluminium, suitable for direct installation.
Sustainable: Environmentally friendly and resource-saving due to replaceable components.