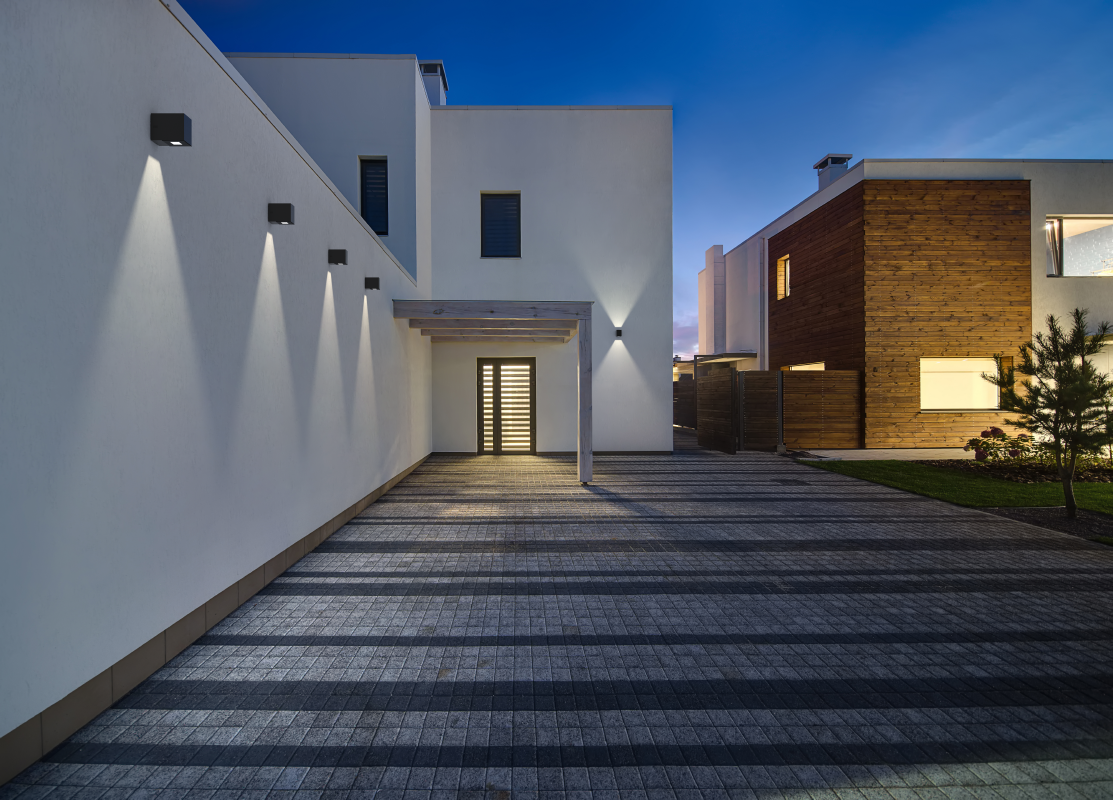 © shutterstock
CYL | NADELSPOT | TECHNO | ZONO
Wallscaping - Highlight for wall design.
The term wallscaping is made up of the English words "wall" and "(land)scaping" for (landscape) design. The WALLSCAPING series by RZB is exactly that: the enhancement of outer walls through light. For this purpose, the four successful wall luminaires TECHNO, CYL, ZONO and NADELSPOT were redeveloped from scratch.
The four product families TECHNO, CYL, ZONO and NADELSPOT share a clear design language made up of the timeless basic forms of cuboid and cylinder, which supports their use in modern architecture. The housings are constructed in two parts and are exceptionally easy to assemble. A uniform wall panel forms the basis. The innovative Gravolock lock – a new word created by RZB – promises quick and easy installation of the luminaire head, which is mounted without screws on the housing base and is fastened by means of a latch. The luminaire is closed at the top and bottom by a frameless glass cover with bayonet connection. The gentle light emission at the edge of the glass gives the WALLSCAPING luminaires their unmistakable character. With the various beam options and the different luminaire head designs within the WALLSCAPING series, the perfect solution for an architectural highlight can be found for practically every environment.
Highlights of CYL | NADELSPOT | TECHNO | ZONO
Architecture
Design-oriented: Classic, timeless and with minimalist design.
Versatile: Four luminaire bodies - one mounting bracket.
Safe: Safety catch for theft protection.
Sustainable: Environmentally friendly and resource-saving due to replaceable components.
Lighting planning
Individual: Versions with interchangeable reflectors for flexible wall installation.
Powerful: MultiLumen variants - 3 steps adjustable luminous flux.
Long service life: Seawater resistant coating.
Innovative: The innovative housing concept protects light source and driver reliably against all weather conditions.
Installation
Easy installation: Fixing and electrical connection is done only at the fixing plate, the luminaire is screwlessly plugged on thereafter and held into position via RZB Gravolock® System.
Straightforward: The standard large cable inlet allows a simple loop-through without an additional connection box.
Standard: Integral membrane valve for pressure compensation and avoidance of condensation.
Series CYL | NADELSPOT | TECHNO | ZONO