PLANADO
312622.002.76
Ceiling and wall luminaires, white


white
Shapely diffuser luminaires for use even with increased requirements. Housing and end caps made of sheet steel, powder coated. End caps with hidden screws, with permanently dimensionally stable silicone foam seal. Rectangular diffuser made of non-yellowing plastic (PMMA), opal. Specially matched 2-component optical system for homogeneous and soft illumination of the entire light-emitting surface. Suitable for ceiling mounting, wall (surface). Driver integrated. Suitable for through-wiring. Luminaires with limited surface temperature in accordance with DIN EN 60598-2-24 for use in environments in which a deposit of non-conductive dust on the luminaire can be expected. Qualified for use in the food and drink industry. Environmentally friendly and resource-saving due to replaceable components.
Technical Specifications
Length L
1200 mm
Width B
160 mm
Height H
58 mm
Weight
3.97 kg
Light source
LED
Colour temperature
3000 K
Rated luminous flux
4750 lm
System power
38 W
System efficiency
125 lm/W
Glare evaluation UGR (4H 8H)
24
Beam angle
down 144°/114°
up 180°/55°
Rated life
50000 h (L80/B10)
Colour rendering index (CRI)
80
Colour tolerance
3 SDCM
Photobiological safety according to EN 62471
Risk group 1
Driver
Converter, dimmable
Control
DALI
Voltage
220 - 240 V / 50 Hz, 60 Hz
Luminaires on B10A fuse
15
Luminaires on B16A fuse
24
Luminaires on C10A fuse
24
Luminaires on C16A fuse
40
Inrush current / Inrush current duration
24.9 A / 215 µs
CIE Flux Code / CEN Flux Code
40 70 90 84 100
Type of protection
IP 54 ceiling mounting
IP 50 wall mounting
Protection class
I
Filament test
650 °C
Impact resistance
Ambient temperature
-25 °C ... + 35 °C
Safety marks
D-mark
Conformity mark
CE , EAC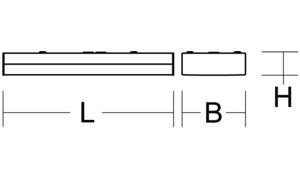 Light Calculator
The Online Light Calculator's purpose is a quick calculation and the results may not be perfectly accurate.