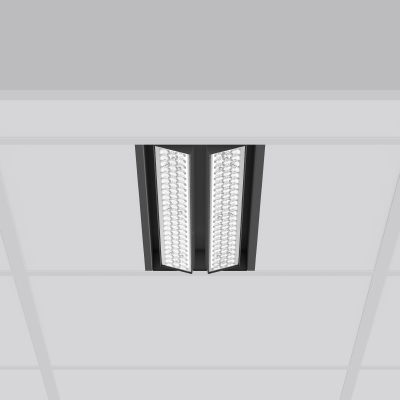 Einlege/Einbau-Flächenstrahler. Housing: sheet steel, powder-coated. 2xSwivel range: 90°. High-efficiency LED units with optimum light control thanks to clear plastic (PC) lens optics. Spezielle Mikrostrukturen reduzieren Gelbsaum. Symmetrical light distribution. Suitable for laying in grid ceiling module 625. Connected converter included in separate gearbox. Suitable for through-wiring. MultiLumen: Luminous flux adjustable in 3 steps. Accessories: Mounting frame for installation in suspended ceilings.
Technical Specifications
Length L
622 mm
Width B
190 mm
Height H
39 mm
Cut-out length LA
602 mm
Cut-out width BA
174 mm
Recess height HE
100 mm
Weight
3.55 kg
Light source
LED
Colour temperature
3000 K
Glare evaluation UGR (4H 8H)
21,2 | 22,1 | 23,2
Beam angle
85°
Rated life
50000 h (L80/B10)
Colour rendering index (CRI)
80
Colour tolerance
3 SDCM
Photobiological safety according to EN 62471
Risk group 1
Driver
Electronic ballast, dimmable
Control
DALI
Voltage
220 - 240 V / 50 Hz, 60 Hz
Luminaires on B10A fuse
15
Luminaires on B16A fuse
25
Luminaires on C10A fuse
26
Luminaires on C16A fuse
42
Inrush current / Inrush current duration
10 A / 50 µs
CIE Flux Code / CEN Flux Code
77 96 99 100 100
Type of protection
IP 20 on room side
IP 20
Protection class
I
Filament test
Impact resistance
Ambient temperature
5 °C ... + 25 °C
Safety marks
Do not cover the recessed luminaire! , F-mark
Conformity mark
CE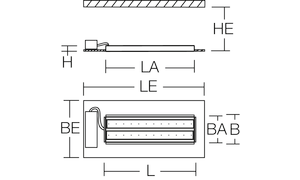 Light Calculator
The Online Light Calculator's purpose is a quick calculation and the results may not be perfectly accurate.