TRIONA round
312383.002.2.12
Recessed ceiling luminaires, white

Decorative round LED recessed surface luminaire. Cover made of sheet steel, powder-coated. Frame made of aluminium, powder-coated. Recessed ring: aluminium extrusion profile, powder coated. Light emission through a diffuser: plastic, opal. Lightguide and diffuser made of non-yellowing plastic (PMMA). Lateral light emission (RZB SIDELITE® technology) for above-average homogeneous light distribution. Tunable white versions, dynamically adjustable from 2700 K to 6500 K. Suitable for installation in cavity ceilings. Tool-free mounting system thanks to the rocker arm mechanism (patent pending). Electronic ballast included. Very easy installation thanks to plug & play connection. Ideal for use as part of the Human Centric Lighting concept in connection with RZB light management systems.
Technical Specifications
Diameter D
725 mm
Height H
2 mm
Cut-out diameter DA
702 mm
Recess height HE
100 mm
Luminaire: recess height HEL
89 mm
Weight
12.8 kg
Light source
LED
Colour temperature
2700 - 6500 K
Rated luminous flux
3200...3350 lm
System power
40...42 W
System efficiency
76...84 lm/W
Glare evaluation UGR (4H 8H)
20 ... 20,2
Beam angle
104°
Rated life
50000 h (L80/B50)
Colour rendering index (CRI)
80
Colour tolerance
3 SDCM
Photobiological safety according to EN 62471
Risk group 1
Driver
Converter, dimmable
Control
DALI
Voltage
220 - 240 V / 50 - 60 Hz
Luminaires on B10A fuse
13
Luminaires on B16A fuse
22
Luminaires on C10A fuse
21
Luminaires on C16A fuse
36
Inrush current / Inrush current duration
29 A / 180 µs
CIE Flux Code / CEN Flux Code
50 80 96 100 100
Type of protection
IP 40 on room side
IP 20
Protection class
I
Filament test
650°C - 30 seconds
Impact resistance
IK03 (0,35 Joule)
Ambient temperature
25 °C
Safety marks
F-mark
Conformity mark
CE , EAC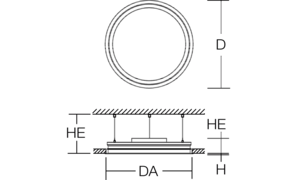 Light Calculator
The Online Light Calculator's purpose is a quick calculation and the results may not be perfectly accurate.