© RZB Lighting

DALI is the classic light bus and is ideal for the simple and central light management

Fast and easy installation

Protected against solid particles with a diameter ≥ 1.0 mm
Protected against access with a wire
No protection

IK06: Impact resistance 1 Joule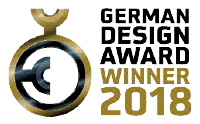 Outstandingly flaffordable
No, it's not a typo. To give the TOLEDO FLAT family the respect it deserves, we simply had to come up with some new terminology. The amazingly low recessed depth or mounting height and terrific value for money are what make the TOLEDO FLAT stand out - although not literally of course. Makes sense, doesn't it?
A strikingly flat design and an extremely low price aren't all that the TOLEDO FLAT has to offer. The LED downlight is available in a flush mounted, surface mounted, pendant and recessed version and with its choice of two designs - round and square - allows for a remarkable number of applications in a total of five sizes.
The overall combination of advanced technical features, a wide choice of versions and, not least, its pleasing and versatile simplicity is what makes the TOLEDO FLAT a real favourite in the downlight sector. This is a genuine all-rounder for the commercial and private sector and remains unparalleled in terms of cost efficiency and application.
TOLEDO FLAT in application
Architecture
Advantageous: Extension of the highly successful LED downlight range as recessed luminaire for grid ceilings.
Reduced: Extra flat design.
Applicable: Offices, meeting rooms, corridors, side rooms.
Lighting planning
Homogenous: Diffuser made of non-yellowing plastic (PMMA) opal or microprismatic.
Optimum: LED rated life 50,000 h (L80/B50).
Combinable: Retrofittable decorative chintz lampshades as accessory.
Installation
Straightforward: Quick and easy to install.
Easy installation: Easy installation with Plug & Play plug connection.
Expandable: DALI versions suitable for through wiring as standard.
Find product
All prices are recommended retail prices and are subject to VAT. Trade sales only.
We are there for you and your project!
Do you have any questions about our products and services?