PLANOX
451234.009
Ceiling and wall luminaires, light grey (RAL 7035)


grey
Classic moisture-proof diffuser luminaire with two-part luminaire design. Housing made of shockproof, UV-resistant plastic (polycarbonate). Injected silicone-based seal with increased resistance even under extreme conditions. Diffuser made of UV-resistant opal plastic (PMMA) with excellent light transmission of up to 90% Diffuser fixed by stainless steel clips for easy installation and opening. Symmetrical light distribution. Homogeneous light distribution. Flexible and easy installation thanks to sliding quick-fix brackets made of stainless steel and diffuser with integrated gear tray as well as variable cable entry (face or rear sided). Suitable for ceiling mounting, suspension cable/chain, wall (surface). Ceiling mounting stainless steel brackets and triangular brackets for pendant mounting included in delivery. MultiLumen: 2 steps adjustable luminous flux. Factory setting is "HO" (high lumen). Through-wiring (2.5mm2) as standard. Luminaires with limited surface temperature in accordance with DIN EN 60598-2-24 for use in environments in which a deposit of conductive dust on the luminaire can be expected. Qualified for use in the food and drink industry. Suitable for lighting in public car parks and public off-street parking spaces according to DIN 67528. Environmentally friendly and resource-saving due to replaceable components. Not a disposable luminaire.
Technical Specifications
Length L
1174 mm
Width B
102 mm
Height H
85 mm
Weight
1.92 kg
Light source
LED
Colour temperature
4000 K
Rated luminous flux
4700 lm, 6900 lm
System power
29 W, 43 W
System efficiency
160 lm/W, 162 lm/W
Glare evaluation UGR (4H 8H)
25,4 | 26,7
Beam angle
down 127°/103°
up 180°/180°
Rated life
72000 h (L80/B50)
Colour rendering index (CRI)
80
Colour tolerance
3 SDCM
Photobiological safety according to EN 62471
Risk group 1
Driver
Converter
Control
on/off
Voltage
220 - 240 V / 0 Hz, 50 Hz, 60 Hz
Luminaires on B10A fuse
12
Luminaires on B16A fuse
19
Luminaires on C10A fuse
20
Luminaires on C16A fuse
32
Inrush current / Inrush current duration
21 A / 316 µs
CIE Flux Code / CEN Flux Code
44 73 92 94 100
Type of protection
IP 66
Protection class
I
Filament test
650°C - 30 seconds
Impact resistance
IK04 (0,50 Joule)
Ambient temperature
-25 °C ... + 40 °C
Safety marks
D-mark , F-mark
Conformity mark
CE , EAC , UKCA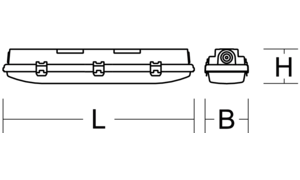 Light Calculator
The Online Light Calculator's purpose is a quick calculation and the results may not be perfectly accurate.
Emergency luminaire
with integrated battery
for central power supply