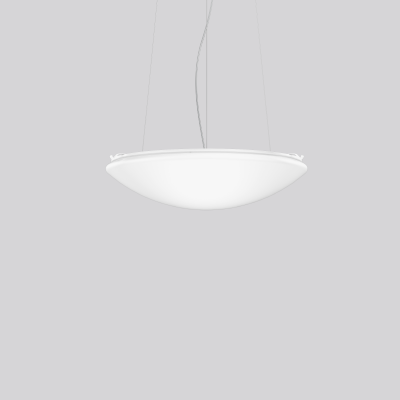 FLATLINER
311931.002.1
Pendant luminaires, white


white
Decorative pendant luminaire with fabric lampshade for interior decoration. Base and canopy: metal, powder-coated, white. Fabric lampshades can be mounted without tools. 3-point steel cable suspension, steplessly adjustable. Special lengths available on request. Transparent connecting cable. Modular design: With the basic luminaire, a square or cylindrical fabric lampshade must always be ordered separately. Fabric lampshades can be fitted to the basic luminaire without tools.
Technical Specifications
Diameter D
620 mm
Height H
160 mm
Suspension length LP
350-3500 mm
Weight
5.93 kg
Light source
LED
Colour temperature
4000 K
Rated luminous flux
2800 lm
System power
38 W
System efficiency
74 lm/W
Glare evaluation UGR (4H 8H)
13,9
Beam angle
down 131°
up 147°
Rated life
50000 h (L80/B10)
Colour rendering index (CRI)
80
Colour tolerance
4 SDCM
Photobiological safety according to EN 62471
Risk group 0
Driver
Converter
Control
on/off
Voltage
220 - 240 V / 0 Hz, 50 - 60 Hz
Luminaires on B10A fuse
15
Luminaires on B16A fuse
25
Luminaires on C10A fuse
26
Luminaires on C16A fuse
42
Inrush current / Inrush current duration
10 A / 50 µs
CIE Flux Code / CEN Flux Code
37 66 86 49 100
Type of protection
IP 40
Protection class
I
Filament test
650°C - 30 seconds
Impact resistance
IK02 (0,20 Joule)
Ambient temperature
25 °C
Safety marks
F-mark
Conformity mark
CE , EAC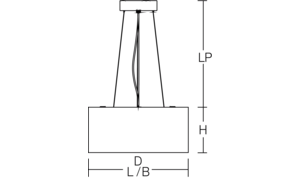 Light Calculator
The Online Light Calculator's purpose is a quick calculation and the results may not be perfectly accurate.