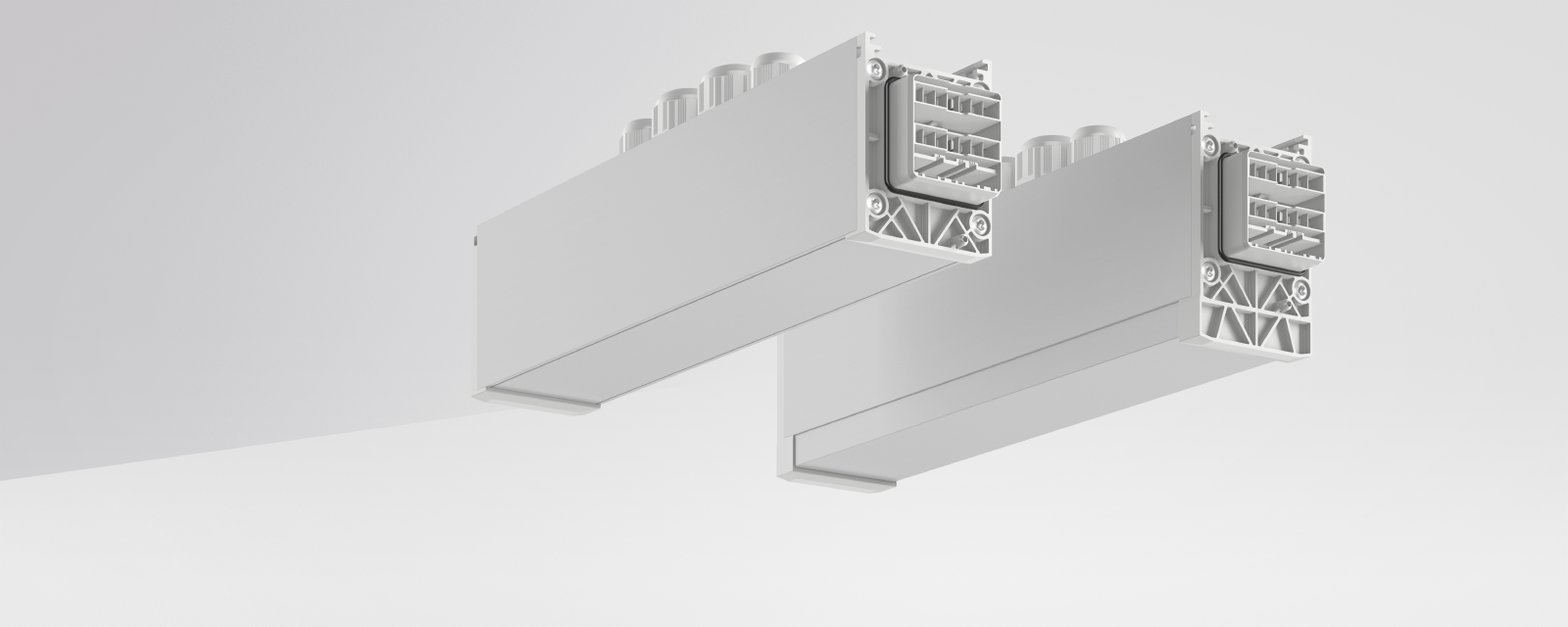 © RZB Lighting

Luminaires: Acquisition and forwarding of status and energy data. Lighting management systems: Forwarding of luminaire data to cloud services possible

Time saving thanks to Plug&Play complete modules

ENEC certified and ready for the future

Revit files available for optimised BIM planning

Line luminaire projects can be planned in just a few steps using the LINEDO app

Line luminaire projects can be planned in just a few steps using the LINEDO app

Technically a continuous line luminaire. Actually a revolution!
Thought through and made new: RZB's LINEDO represents a true revolution in linear LED lighting. In LINEDO, the mounting channel and continuous line luminaire form a single unit – and consequently a system that requires a lot less time and effort to install.
The benefits and areas of application, on the other hand, are maximised, since the clever plug-and-play module is also technologically superior: LED boards specially developed for the minimalistic aluminium extrusion profile; covers and optics precisely matched; through-wiring with up to 14-pole and IP 54 protection rating as standard: all these features make LINEDO outstandingly efficient, future-proof and flexible to use. Uncompromising lighting quality and an aesthetically pleasing design which is far from typical for a continuous line system are both a logical consequence and its crowning glory. It means that LINEDO is finding favour in architecturally ambitious environments such as car museums and even religious buildings, as well as in industrial buildings and supermarkets. Planning, configuring or scaling this high-flyer made in Germany is wonderfully simple and app-supported. Just a few key products can solve around 80 percent of all lighting tasks.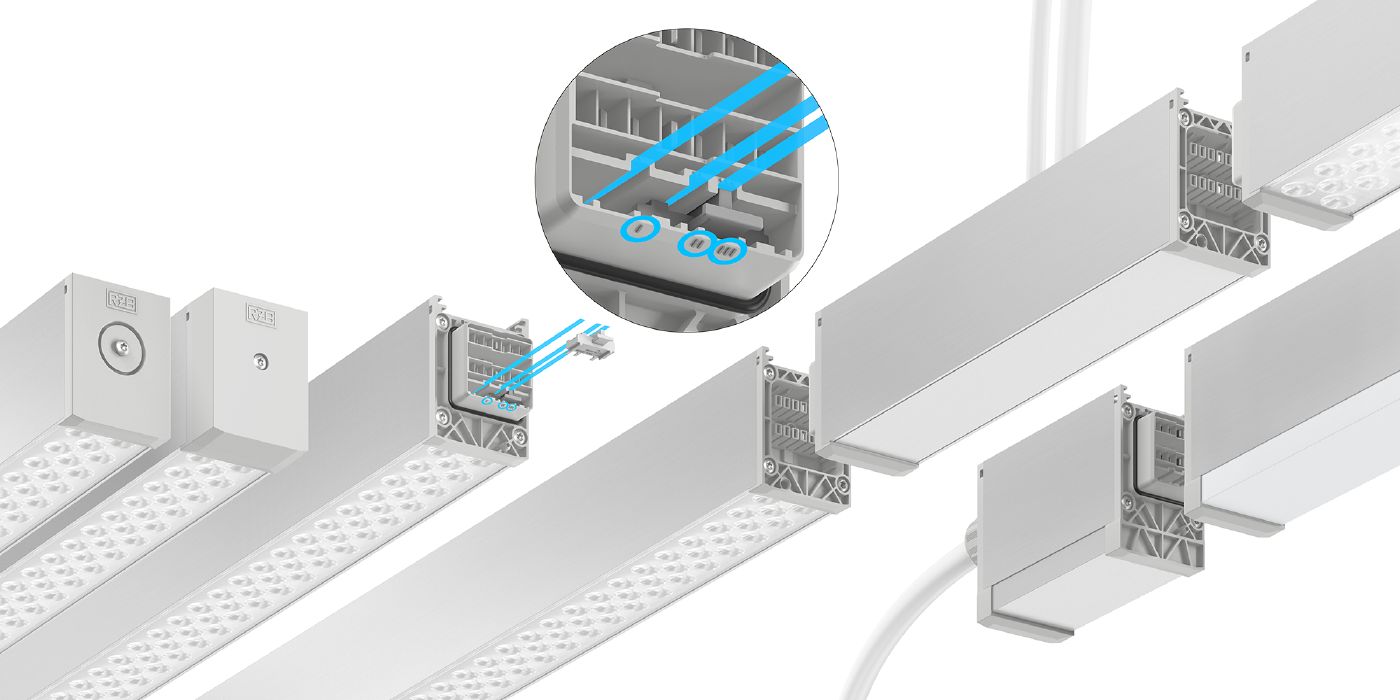 Initial power feed (short Version)
Two separate cable screw fittings for max. 14-pole through-wiring
...And 3D from every angle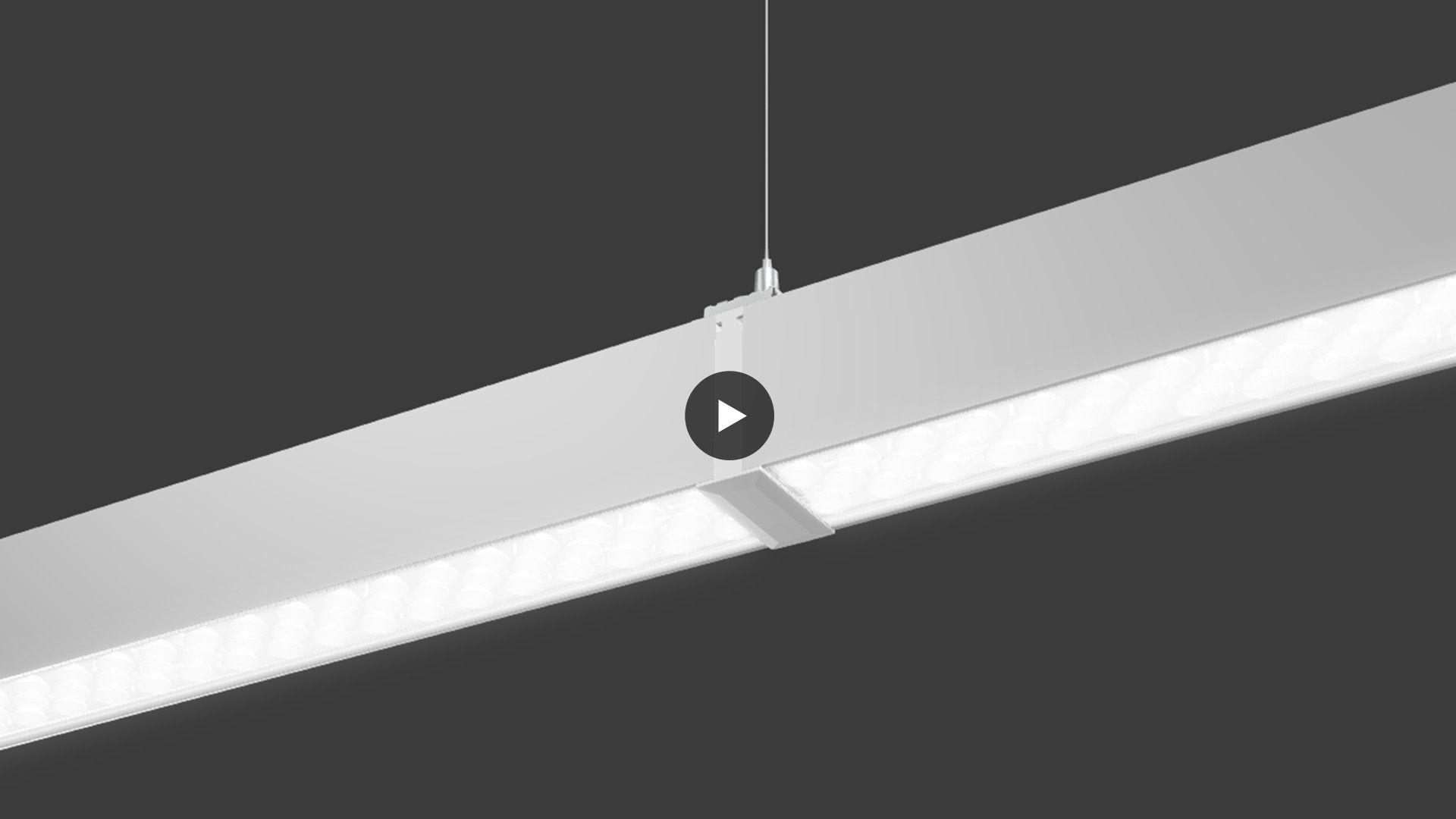 LINEDO in application
Architecture
Design-oriented: Ready-to install, stylish single-component continuous line luminaire system.
Individual: 3 profile colours are standard, but LINEDO can also be customised to suit specific projects.
Variable: Shaped connectors make a variety of linear structures possible
Long service life: LED rated life 80000 h (LCLO), CLO controlled for constant light output throughout the entire service life.
Advantageous: Up to 10 years warranty.
Lighting planning
Reliable planning: 7 light distributions and 5 performance levels cover almost any lighting task in industry, shops, offices and public buildings.
Powerful: Luminous efficacy up to 180 lm/W.
Future-proof: IoT ready – control and monitoring via DALI-2 Standard (on request).
Anti-glare: Perfect for office areas (UGR ≤ 19) and environments with computer screens in accordance with EN 12464-1.
Installation
Easy installation: Ultra-fast installation through Plug & Play modules.
Flexible: 5, 7- or 14-pole through-wiring as standard.
Protected: High protection type IP 54 as standard.
Combinable: Numerous functional modules, e.g. spotlights, emergency lighting, sensors....
Find product
All prices are recommended retail prices and are subject to VAT. Trade sales only.
We are there for you and your project!
Do you have any questions about our products and services?