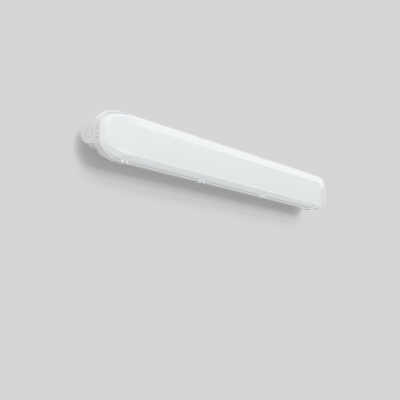 PLANOX
672600.009.1
Ceiling and wall luminaires, light grey (RAL 7035)


grey
Classic moisture-proof diffuser luminaire with two-part luminaire design. For escape route illumination. Housing made of shockproof, UV-resistant plastic (polycarbonate). Injected silicone-based seal with increased resistance even under extreme conditions. Diffuser made of UV-resistant opal plastic (PMMA) with excellent light transmission of up to 90% Diffuser fixed by stainless steel clips for easy installation and opening. Symmetrical light distribution. Homogeneous light distribution. Flexible and easy installation thanks to sliding quick-fix brackets made of stainless steel and diffuser with integrated gear tray as well as variable cable entry (face or rear sided). Suitable for ceiling mounting, suspension cable/chain, wall (surface). Ceiling mounting stainless steel brackets and triangular brackets for pendant mounting included in delivery. Driver integrated. For connection to the emergency power supply.
Technical Specifications
Typ of emergency lighting
Central battery system
Monitoring
Power circuit monitored
Battery
without
Operating mode
maintained power mode
Length L
1174 mm
Width B
102 mm
Height H
85 mm
Weight
1.9 kg
Light source
LED
Colour temperature
4000 K
Rated luminous flux
6900 lm
Luminous flux, emergency
860 lm
System power
43 W
System power, emergency
8 W
System efficiency
160 lm/W
Glare evaluation UGR (4H 8H)
26,7
Beam angle
down 127°/103°
up 180°/180°
Rated life
100000 h
Colour rendering index (CRI)
80
Photobiological safety according to EN 62471
Risk group 1
Driver
Converter
Control
on/off
Voltage
220 - 240 V / 0 Hz, 50 Hz, 60 Hz
Luminaires on B10A fuse
12
Luminaires on B16A fuse
20
Luminaires on C10A fuse
20
Luminaires on C16A fuse
34
Inrush current / Inrush current duration
25 A / 230 µs
CIE Flux Code / CEN Flux Code
44 73 92 94 100
Type of protection
IP 66
Protection class
I
Filament test
650 °C
Impact resistance
Ambient temperature for maintained power
-25 °C ... + 35 °C
Safety marks
D-mark
Conformity mark
CE , EAC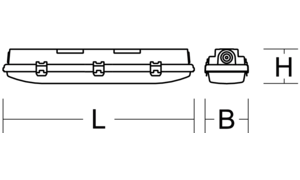 Light Calculator
The Online Light Calculator's purpose is a quick calculation and the results may not be perfectly accurate.