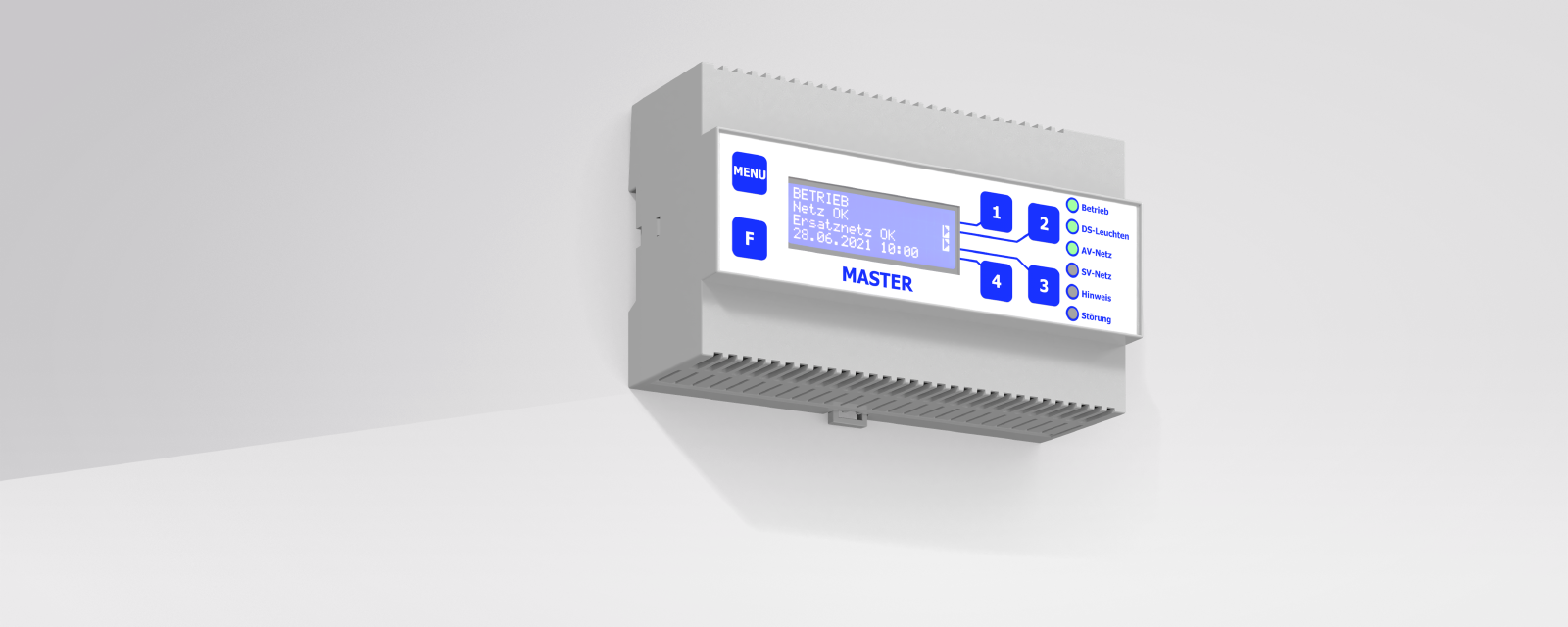 © RZB Lighting
Microprocessor control and monitoring unit
The Master is a freely programmable control device that also acts as the communication interface. From a technical system perspective, the Master can be supported by further sub-masters, which then form their own self-enclosed systems but are always managed by the Master and communicate with each other via the Master bus, or exchange switching commands that apply to both Master and sub-masters. Each master/sub-master forms its own communication bus, thus eliminating the communication overload on the overall system's bus systems. The Master unit provides all of the monitoring functions required by the applicable VDE and EN standards and is equipped with the following features: - Illuminated blue-design display 4 lines with 20 characters each
- Clear-text display of all reports
- 6 membrane buttons for operation
- Operating state reports via LED
- Buffer memory for reports and function tests dating back more than 4 years
- USB # interface for connecting a tablet/PC
- SD card for programming, display texts, test log, etc.
- Simple parametrisation using a PC and Service software or via menu buttons
- 3 RS232 interfaces for expansion modules (print box, visualisation, phoneline box etc.)
- Automatic function and operating time tests
- Optional deployment of the Master unit as a sub-master system in Sub-distribution boards
- Remote maintenance via phone or Internet
- Visualisation of the entire system on incorporated or existing PC (option)
- 8 freely programmable digital inputs
- Windows-compatible embOS operating system
- Programmable function keys for rapid access to frequently used functions
- Each individual luminaire can be programmed
- Clear-text display of local emergency modes
- Automatic search for specific luminaire addresses
- Service address and telephone number can be programmed in the Information menu
- 8 programmable switching options per individual luminaire
- 8 programmable switching options per electric circuit Luxifair Master is the system's central intelligence. It performs all of the monitoring, log and test functions stipulated in VDE 0108, EN 50172 and EN 50171 and stores them on an SD card. The emergency lighting installation can be programmed via the illuminated display or via a laptop/PC, which is connected through the standard USB connection to the Luxifair Master. All messages are displayed as clear text. The site texts can be stored using the menu control or with the help of a PC. The Luxifair Master can also be integrated in an emergency lighting sub-distribution board. Besides the numerous connection options of the Master, the user current can also be metered. Housing: plastic
Dsiplay: 4 x 20 characters
Operation: 6 x function keys or PC via USB
Special features: 8 freely programmable inputs
Connections: 1 x USB, 3 x RS232 via RJ45 sockets
Space requirements: 9 module spaces (MS)
Type of installation: top hat rail
Temperature warning
Test mode
Find product
All prices are recommended retail prices and are subject to VAT. Trade sales only.
We are there for you and your project!
Do you have any questions about our products and services?